The man rubbed his eyes, then looked again,
"It's a miracle! You have become the most
beautiful tree I have ever seen!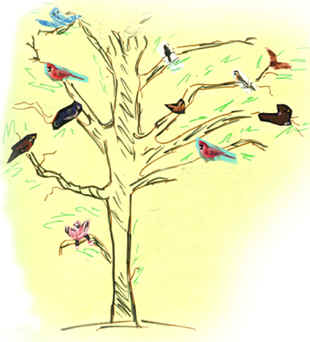 I can't cut you down now!"
The sugar maple trembled with joy,
shaking the birds on her branches.
The birds feet tickled the tiny
buds on the branches and one by one
they popped open in laughter. "My buds
are awake! My buds are awake! Now my leaves
will grow, just as I said they would," the sugar maple tree
exclaimed. "Thank you my bird friends! Come
back often for a shady rest or to build your nest!"

As the birds flew off, a song echoed through the other trees,
"We knew you could do it, Sugar.
Welcome home!"